Friends, according to the old tradition, we are summing up the results of the past year. We have held more than 25 events of various formats for participants and players of the commercial real estate market.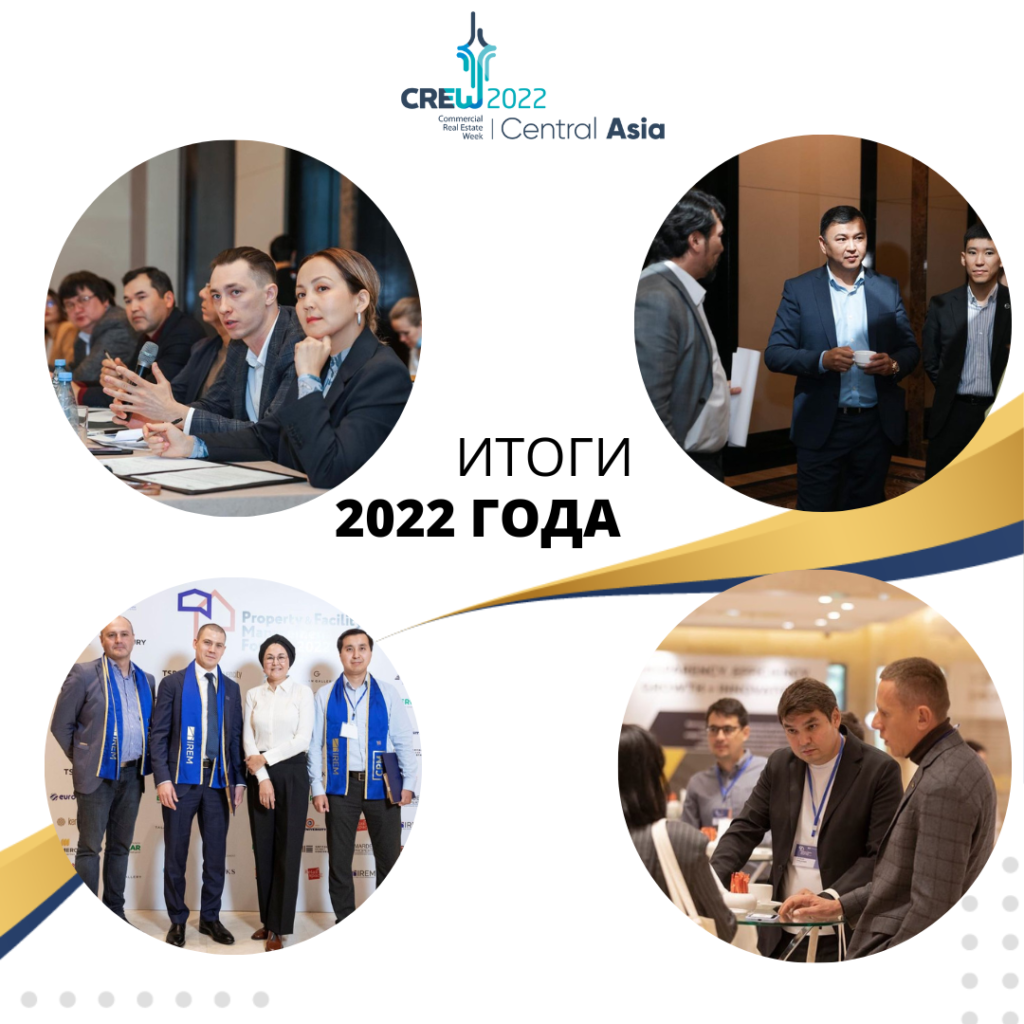 Let's remember how the year 2022 passed:
February 4.CREW Business breakfast Almaty, Tashkent. The market of development, office, retail real estate and retail in numbers: the results of the year, the prospect of development.
February 22. CREW Business breakfast Nur-Sultan. Urbanism and infrastructural development of the city.
March 29. CREW Business Conference Bishkek. Development and management of office and retail real estate. Retail marketing.
April 27. Visiting Property tour Almaty. Familiarity with large retail facilities.
April 29. CREW Warehouse Development & Logistics Almaty. Warehouse real estate and logistics. Optimization, automation, digitalization, customization.
March 15-18. WORLD 2022 Cannes. International Exhibition of Commercial Real Estate and Investment Projects.
May 20. CREW Business Conference Shymkent 2022. Forum on Construction, development and real Estate Management.
May 26. International Conference Tashkent. Urban Development strategy: Development of territories and public spaces.
September 24. Organizers of Property & Facility Forum 2022, Almaty. New security requirements in the field of management and maintenance of commercial real estate; Trends and preferences of tenants in the Central Asian market; Redevelopment of facilities and concepts.
August 4. CREW Business breakfast Nur-Sultan, Almaty. Round table "Rethinking shopping centers and new challenges in the management of shopping malls, shopping centers.
September 8th. FIABCI Business breakfast Tashkent. How does the shortage of personnel reduce the pace of the company during the construction boom in the market?
September 16. @redcentralasia in partnership with Ukrainian @redcommunityua held a meeting on the topic "Effective strategy and tactics of sales management: from "packaging" to the selection of top employees"
September 24. Property & Facility Management Forum 2022, Almaty. Development of retail, office and hotel components: features, requirements, tenants, operators. Site analysis. Mixed Use Projects – how to combine different types for maximum results. Case Study with the calculation of the area, income and attractiveness of the Project.
October 20th. Central Asia Property Awards 2022, Astana. The Real estate Award identifies the best properties and companies in the market of Kazakhstan and Central Asia.
October 20th. Fiabci Central Asia Forum. Investments in commercial real estate in Central Asia. International experience in promoting the construction industry: anti-crisis measures, financing, investments.
November 18th. The first ART Breakfast Astana. Creative solutions in the field of real estate.
November 21. Live broadcast of the director of Kazakhstan Networking Partners Aliya Serikpaeva and the founder of Retail Space Global Yerzhan Urazbayev met live on Instagram and talked about new formats and trends in the shopping center.
December 15-16. Visiting conference and property tour of residential real estate and construction sites in Dubai, Abu Dhabi. Investments, opportunities for investors. Technologies in construction. Interesting concepts of objects. Green cities of the future. Eco standards.
We are glad that you shared the past events with us. We thank our partners and market participants for supporting the development of the CREW platform. This year we will continue to hold events of various formats.